Principled Technologies Discovers That Chromebooks Powered by Intel Core m3-6Y30 Processors Enable Users to Save Time Doing Tasks Throughout the Day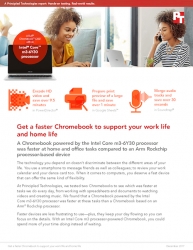 Durham, NC, December 21, 2017 –(PR.com)– When it comes to computers, users deserve a fast device that can offer flexibility. Principled Technologies (PT) tested two Chromebooks to see which was faster at tasks people do every day, from working with spreadsheets and documents to editing videos and creating music. A Chromebook powered by the Intel Core m3-6Y30 processor was faster at the tasks they tested than one based on an Arm Rockchip processor. According to the report, "Faster devices are less frustrating to use – plus, they keep your day flowing so you can focus on the details. With an Intel Core m3 processor-powered Chromebook, you could spend more of your time doing instead of waiting."
As an example, PT prepared a print preview of a large document over a minute faster with the Intel Core m3 processor-powered Chromebook than they could using the Arm processor-based one. The device powered by Intel was also faster at rendering video, opening spreadsheets, and merging audio tracks.
To learn more about how Chromebooks powered by an Intel Core m3 processor could benefit users, go to http://facts.pt/4MEeBb.
About Principled Technologies, Inc.
Principled Technologies, Inc. is the leading provider of technology marketing and learning & development services.
Principled Technologies, Inc. is located in Durham, North Carolina, USA. For more information, please visit PrincipledTechnologies.com.
Contact Information:
Principled Technologies, Inc.
Chloe Rockow Madsen
(919) 941-9812
Contact via Email
http://www.principledtechnologies.com/
Read the full story here: https://www.pr.com/press-release/735069
Press Release Distributed by PR.com