Immigration Authority Scaros Pens New Book on How to Deal with Persons Here Illegally; Author Announces New Book: Stop Calling Them "Immigrants"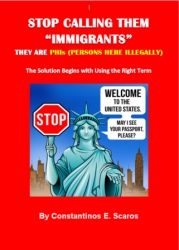 Newmanstown, PA, January 11, 2018 –(PR.com)– In his latest book, Stop Calling Them "Immigrants": They are PHIs (Persons Here Illegally) – The Solution Begins with Using the Right Term, immigration expert Constantinos E. Scaros provides detailed solutions to America's immigration problem, and says it all begins with using the correct term.
The longtime immigration attorney, professor, and author, explains that only legal permanent residents (green-card holders) and naturalized citizens can rightfully be called "immigrants," and to extend that term to all foreign-born persons in the United States goes beyond technicality and semantics and serves to further the agenda of those who support open borders and sanctuary cities.
Because "closet Open Borderists," as Scaros refers to them, will not admit their true intentions, they often reject terms like "illegal aliens" to describe persons here illegally, instead insisting on calling them "immigrants." As Scaros instructs, there is not a better term to use to refer to a person here illegally than Person Here Illegally (PHI).
Beyond terminology, Scaros differentiates between the various types of PHIs and proposes viable solutions that extend far beyond the vague "pathway to citizenship" platitude.
A son of immigrants raised in an immigrant community in New York City, who went on to become an immigration attorney who helped countless clients successfully gain lawful immigration status, Scaros balances personal experience and empathy with an aversion to lawlessness and trespass, and proposes an immigration policy with which all but the most ardent extremists would agree.
Stop Calling Them "Immigrants"
By Constantinos E. Scaros (KDP: 2017)
Softcover | 6 x 9 in | 181 pages | ISBN 978-1973509073
E-Book | 181 pages | ASIN: B0782Z5WXL
Available at Amazon
About the Author
Constantinos E. Scaros is a presidential historian specializing in voter behavior. In addition to immigration law, he has taught other legal topics as well as history, political science, criminal justice, and journalism, for over 20 years at numerous colleges and universities. A political analyst, he appeared on numerous local and national radio and television programs during the 2016 election. He is the author of several other books, including: Learning about the Law, Learning about Immigration Law, All about Torts, How to be a "Wow!" Student, Understanding the Constitution, and Grumpy Old Party. A native New Yorker, he lives with his family in Central Pennsylvania.
Contact Information:
Constantinos E. Scaros
646-772-5141
Contact via Email
www.amazon.com/Stop-Calling-Them-Immigrants-Illegally/dp/1973509075/ref=tmm_pap_swatch_0?_encoding=U
Read the full story here: https://www.pr.com/press-release/741119
Press Release Distributed by PR.com