PHAME Beauty Expo Announces Vanessa Simmons, Kelley Baker, Angel Brinks, Julissa Bermudez and More for Their June Expo in Los Angeles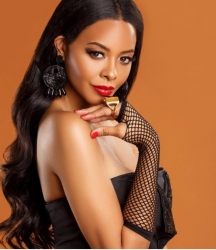 Los Angeles, CA, March 01, 2018 –(PR.com)– PHAME (Professional Hair and Makeup Expo) has announced amazing CEO's who are all around girl-bosses. The event will convene in Downtown Los Angeles, gathering some of the most influential people in the skincare, cosmetic, hair, and nail industries. Here are the details:
What: PHAME LA 2018 // Professional Hair and Makeup Expo
When: June 2 & 3, 2018
Where: Magic Box, Downtown Los Angeles
Tickets: www.phame.com
PHAME has always been the pre-summer hot spot for attendees to learn from their favorite artists, shop their favorite brands, meet their favorite influencers and share their day with other like-minded beauty enthusiasts.
Panelists and Masterclass Educators include:
Vanessa Simmons – Actress, Host, and CEO of Sugar ME
Angel Brinks – Celebrity Fashion Designer and CEO of Angel Brinks Cosmetics
Kelley Baker – Celebrity Makeup Artist and Owner of Kelley Baker Brows
Julissa Bermudez – TV Host and Beauty Influencer
Lilly Ghalichi Mir – Attorney, Fashion Designer and CEO of Lilly Lashes
Cashmere Nicole – CEO of Beauty Bakerie
Roshar – International Makeup Artist
Kirbie Johnson – Host, Producer @ PopSugar
Katie Rosen Kitchens – CEO of FabFitFun
…and many more!
Keep up with PHAME by following them on Instagram at www.instagram.com/phame_xpo and get on their mailing list at www.phame.com
Contact Information:
PHAME
Katrina Jefferson
323.360.4191
Contact via Email
https://www.phame.com
Read the full story here: https://www.pr.com/press-release/746401
Press Release Distributed by PR.com