Shine Window Care and Holiday Lighting of Austin – The Four Points, Opening a Family Business with a Unique Spin on Education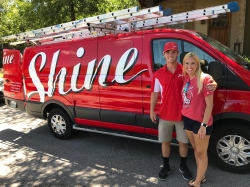 Austin, TX, October 20, 2017 –(PR.com)– One of the nation's top window cleaning, pressure washing, and Christmas Light Installation companies will soon be serving The Four Points Area of Austin Texas. Cami Wilson along with her husband Jeff and their five boys will start the process of developing a family business taking a unique approach to their son Parker's business education by investing in a franchise fee to fulfill his dreams of owning his own business.
In 2016 the Wilson's befriended Lee and Kelsey DeJonge, a family that just moved down from Michigan to start their own business venture in Lakeway, Texas. Lee DeJonge is an entrepreneur from Zeeland Michigan who owns the largest Shine Franchise in the United States who also serves as the Vice President of Operations in the Shine Franchise Group Headquarters. When he visited Lakeway with his family of six, they fell in love with the people and the culture, and noticed a perfect fit for the Shine business model.
Lee noticed something special in Parker immediately when he started working at the Lakeway location and was immediately given more and more responsibility. The more Cami and Jeff discussed the Shine business model with Lee the more intriguing it was for them to pursue a business education for their son in a unique way, by actually allowing him the hands-on experience of running their business with the coaching and support structure that is offered by a franchise. "Cami is an incredibly devoted mother, and I knew she would love the idea of being able to share her talent and expertise with Parker while working on developing the family business," said Jeff Wilson. "The idea was different, but we have seen him develop a real love for business, The growth and talent we have seen in the real life business skills he needs."
The new Austin Shine location will also be providing the company's highly regarded, full-service Christmas light design, installation, maintenance, and removal services, making the most of a special season has never been more convenient. The Shine flagship product has always been Window Cleaning. Shine will also provide pressure washing services that will leave exterior walls, driveways, decks, pool-cages, and other tough-to-clean surfaces looking great. Careful, effective window, pressure and gutter cleaning services will do the same in even the most challenging of environments.
"We're pleased to announce that our very own Wilson Family is ready to open a brand-new Shine location in Austin, Texas, It is so nice to find franchisees that share our values and commitment to customer service," said Shine founder and CEO Chris Fisher. "Shine is all about family, and serving others well, the Wilsons embody all of that and we are so thankful to have them on board."
Now including locations in Florida, Michigan, New York, Ohio, Oregon, and Texas, Shine got its start soon after founder Chris Fisher graduated from college in 1998. Emphasizing quality, reliability, and affordability of service, the one-man operation Fisher opened up grew within a decade to include many employees and serve thousands of clients throughout western Michigan.
With plenty of momentum and an industry-leading reputation to propel it, Shine began expanding nationwide beginning in 2012. As a new Shine location opens in October, residents and businesses in Austin will gain access to the quality of service that has helped the company become a leader in its field and grow steadily for nearly twenty years.
"I look forward to providing people and companies in the area with exceptional pressure washing, window cleaning, and other services," said Shine Window Care and Holiday Lighting of Austin owner and operator Cami Wilson. "I love this community and look forward to serving them will with a family business that is dedicated to quality and old-fashioned customer service."
About Shine Window Care and Holiday Lighting of Austin The Four Points:
Offering a full range of pressure washing; window, and gutter cleaning; and Christmas lighting services, Shine Window Care and Holiday Lighting of Austin backs every job with a 100-percent satisfaction guarantee.
Media Contact:
Cami Wilson
Shine Window Care and Holiday Lighting of Austin
Telephone: 512-915-0600
Email: [email protected]
Website: http://shine-windowcleaning.com/austin
Contact Information:
Shine Window Care and Holiday
Matthew J DeYoung
616-334-1577
Contact via Email
shine-windowcleaning.com
Read the full story here: http://www.pr.com/press-release/733495
Press Release Distributed by PR.com