RowAnalytics Cements Its North American Presence with a New Office in Boston – to Introduce a Radically Different Approach to Precision Medicine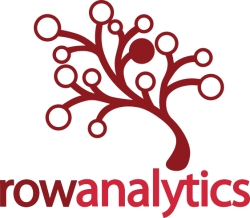 Cambridge, MA, November 30, 2017 –(PR.com)– RowAnalytics today announced that it has established its presence in North America with an office in Cambridge, MA to further collaborative research in precision medicine with the world's leading academic, clinical and biotechnology organizations. Located in the heart of Kendall Square, which offers an inspirational rich history in biotech and an impressive list of neighbors, Cambridge operations will include both commercial and technical operations. Specifically, local teams will execute initiatives in business, marketing, research, informatics and artificial intelligence development.
The move enables recruitment from one of the finest talent pools in the world and provides convenient access for collaboration with life science organizations to advance efforts in personalized medicine. Informatics and artificial intelligence (A.I.) experts will be onsite to assist customers who are analyzing populations in biomarker discovery, genome-wide association, drug repurposing and patient stratification studies. Together, our experts will work alongside scientists, developers and clinicians who are investigating the links between disease, genes and personal risk.
RowAnalytics has developed an innovative analytics platform via a combination of A.I., semantics and science. The precisionlife™ platform introduces a remarkable, first-in-world ability to analyze multiple data forms (both structured and unstructured including medical images, videos, clinical reports, whole genomes and more) together, at the same time. Moreover, the precisionlife platform and suite of solutions enables the rapid and parallel analysis of multiple combinations of multiple factors. This capability, as well as the speed (about 100x the current standard) and ability to execute these complex analyses on a few CPUs versus a supercomputer is unprecedented.
Steve Gardner, CEO of RowAnalytics said, "The opening of our first US office is an exciting moment marking the growth of the company and our collaborations in 2017. I am particularly delighted to bring in such an experienced and capable senior team, led by our new COO, Serdar Uckun, MD, PhD and VP Market Development Loralyn Mears, PhD."
"As our mission is to solve grand challenges in health, food and smart living with innovative analytics, we need to be co-located with the brightest minds in the world and Cambridge, MA. Given that Cambridge is the heart of biotech, the location offers exactly what we need to be successful," said Dr Uckun. He added, "Precision medicine is inordinately complicated and the collective brain trust actively researching and developing novel approaches to improve patient health within the Boston region will challenge our thinking and spur us on to do more and do better."
The precisionlife platform is the first of its kind and is designed to study the deep relationships between disease, clinical symptoms, phenotype and genotype wholistically. Current approaches are limited to studying only single loci SNP variations, which don't model the true complexity or scope of factors impacting disease and hence offer limited understanding. Healthcare costs are skyrocketing and computational constraints are restricting our collective ability to do whole genome, whole population studies. In contrast, precisionlife offers a radically different, scalable, multi-modal and combinatorial approach to precision and personalized medicine. The platform employs a collaborative model to apply clinical expertise in combination with machine-learning to identify novel ways to improve patient health and transform the delivery of healthcare.
The Cambridge, MA location is now fully operational and will be expanding in the months ahead as new customers, collaborators and experts in computational biology and A.I. onboard under Dr Uckun's local leadership.
About RowAnalytics
RowAnalytics is an A.I. solutions company innovating analytics to solve grand challenges in health, food and smart living. Our precisionlife™ platform powers massive disease population studies to identify novel associations of multiple genomic, phenotypic and clinical factors in parallel to assess disease risk and predict therapeutic response. Our platform is a remarkable new capability in precision medicine with unprecedented scale and speed (about 100x faster than current standards) to identify biomarkers, find new purposes for existing drugs and to identify those patients most likely to respond to treatment. RowAnalytics' solutions provide personalization at the scale required to deliver next generation precision medicine, digital health and smart IoT solutions. Headquartered in Oxford, UK, with offices in Copenhagen, DK, Warsaw, PL and Cambridge, MA, RowAnalytics was founded by a diverse team of highly experienced life science, healthcare, A.I. and computer science leaders.
To learn more, visit www.rowanalytics.com
Contact: Loralyn Mears, [email protected]
Contact Information:
RowAnalytics
Loralyn Mears
804-539-2324
Contact via Email
www.rowanalytics.com
Read the full story here: https://www.pr.com/press-release/737747
Press Release Distributed by PR.com