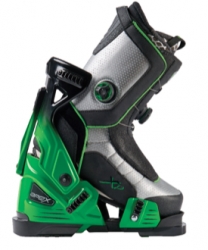 Denver, CO, November 28, 2017 –(PR.com)– Apex Ski Boots offer a significant improvement to boot technology that has broadly lagged behind the massive improvements in ski equipment.
Colorado-based ski boot manufacturer, Apex, offers a product unique to the winter sports market; a ski boot that offers comfort, walkability and high performance. Ski technology has dramatically progressed over the last 20 years from straight, narrow skis to shaped, wider versions with high-quality materials, yet most boot designs on the market are still from the 1970's. Apex believes that modern skis demand a modern approach to ski boots, and they have answered that call by creating a system that has earned industry accolades such as the Freeskier Magazine 2017 Editors' Pick Award.
Apex co-founder, Roger Neiley, explains, "We reject the idea that your feet should be packed into a shell two sizes too small to create enough support to edge effectively." Neiley continues, "The Apex design is different and thousands of skiers have found that it's better; we pair a comfortable, Vibram-soled walking boot for a contoured fit via Boa closures with a three-buckle 'Open Chassis,' which integrates with any alpine binding." Ultimately, the Apex system allows skiers the comfort and walkability of a snowboard boot with a high performance cuff that transfers leg energy efficiently and powerfully to the skis for ultimate control.
While critics are skeptical of boots marketed as "comfortable," experts are taking notice of the Apex product via multiple industry awards in 2017, including Freeskier Magazine, Ski Magazine and America's Best Bootfitters organization. Neiley explains that the superior support offered by the Apex system is what makes the difference. "Modern skis are designed to be driven by medial and lateral support, so we can make a boot with an open chassis system for comfort and easy entry, with enough support to provide that medial-lateral energy transfer; we encourage skiers to see how well it works," says Neiley.
Neiley has written a complete article on "Ski Boot Fitting Myths," and is available for interview.
About Apex Ski Boots
Based in Golden, Colo., Apex Ski Boots was founded by ski veterans who believed that performance, comfort, and warmth were all attainable in one boot. Apex's design is a two-part, "open-chassis" system that allows skiers the comfort and walkability of a snowboard boot paired with the high-performance of a very stiff nanofiber outer shell. When not skiing, the shell can be stepped out of, allowing for comfortable walking up a ridgeline or up the stairs for après fun. The system is infinitely customizable due to the Boa System lacing and a heat-moldable EVA foam inner liner. Apex boots are sold at leading retailers nationwide including REI, Christy Sports, Sun and Ski, Peter Glenn, Boyne County Sports, Moosejaw and more. Consumers can test Apex Boots at the Apex Demo Center in Golden.
http://www.apexskiboots.com/dealers
Contact Information:
Hype House LLC
Briar Schreiber
720-491-1440
Contact via Email
www.thehypehouse.com
Read the full story here: https://www.pr.com/press-release/737515
Press Release Distributed by PR.com